Dental Implants – Beachwood, OH
Replacing The Entire
Structure Of Missing Teeth
Dental implants in Beachwood are a unique restorative treatment because they don't just repair the part of your missing teeth that's above the gums, like dental bridges and dentures do. They anchor prosthetics to posts that are bonded with your jawbone to provide a variety of unique advantages, setting them apart from traditional solutions. Whether you're missing one tooth or all of your teeth, you may be able to benefit from this advanced procedure. To learn more, schedule a consultation with Dr. Koops today to discuss dental implants in Beachwood, OH!
Why Choose Orange Place Family Dentistry for Dental Implants?
American Academy of
Implant Dentistry Member
Sedation Dentistry
Available
In-House
Dental Laboratory
What is a
Dental Implant?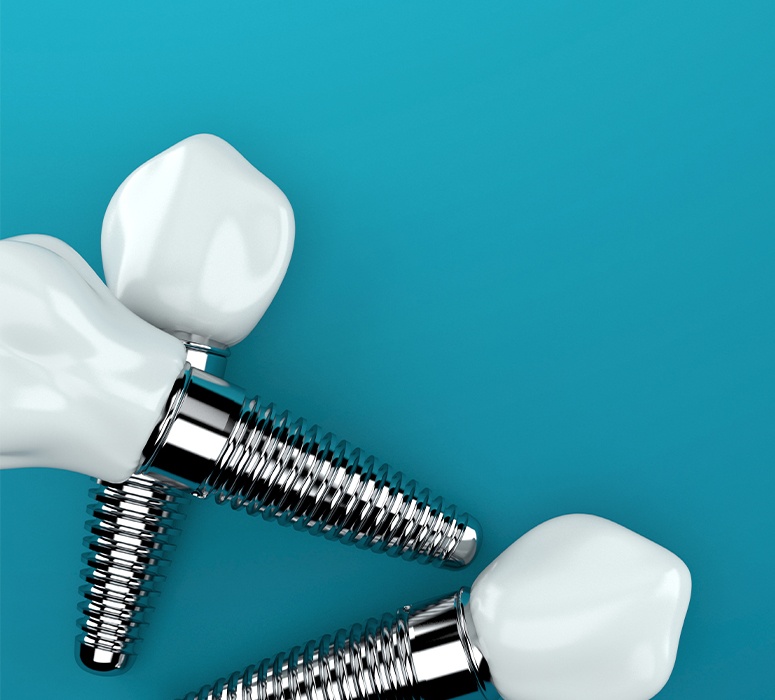 A dental implant is a post, typically made of titanium, that is placed below your gumline and in your jawbone to replace the root structure of missing teeth. The posts are able to naturally fuse with the jawbone due to their biocompatible nature, allowing them to provide several unique benefits. Once this process is complete, a customized crown, bridge, or denture is attached to the implants to complete your smile.
Benefits of
Dental Implants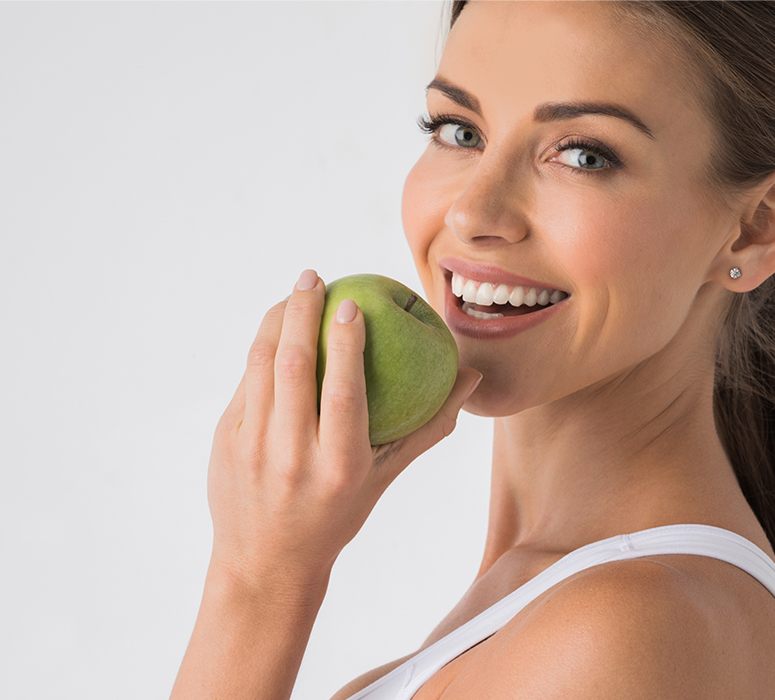 Dental implants are easily distinguished from other traditional restorative solutions because they offer so many benefits for your oral and overall health. These advantages make them a popular choice and recommendation among patients and professionals alike. Here are some of the benefits you can enjoy when you invest in implants:
A lifespan of 35+ years with routine maintenance.
Stronger restorations due to jawbone fusion, eliminating slipping and shifting.
Prevention of jawbone deterioration.
Preserve your facial structure by keeping cheeks from appearing sunken.
Replacement teeth that look and feel natural
No alteration of your natural, healthy teeth required.
A success rate of 95 percent.
Easy daily maintenance.
If you would like to learn more about what sets dental implants apart from the rest of your tooth replacement options, call our team of friendly professionals! We'll be more than happy to answer your questions.
Are Dental Implants Right for You?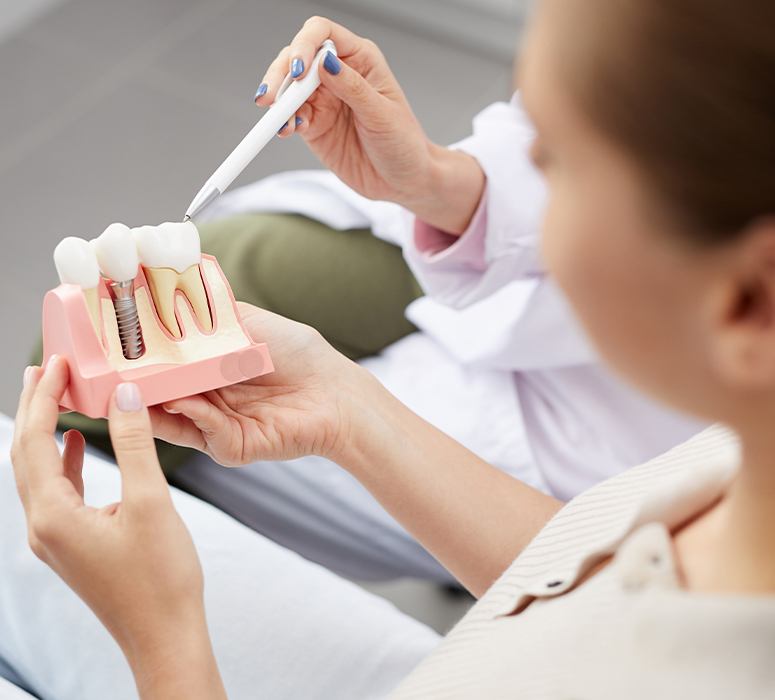 The dental implant process varies from patient-to-patient, which is why the first step is always to schedule a consultation with Dr. Koops. During your appointment, our team will take images of your mouth and conduct an examination of your teeth and gums. We'll be looking for how dense your jawbone is, if your oral health is in good shape, and we'll also ask you about your medical history. With this information, we can help you determine whether dental implants are a worthwhile investment.
If so, we'll go ahead and begin outlining a treatment plan for you. Based on our findings, we'll walk you through the different prosthetics that we can use, depending on how many teeth you're missing, and how many dental implants we'll need to place during the surgery.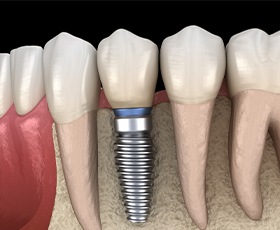 Missing Single Tooth
For a single missing tooth, we'll place one dental implant in the gap below the gumline. Once it fuses with the jawbone, we can anchor a customized crown to the post and fill the gap. This will keep your surrounding teeth from drifting out of place to close the space naturally.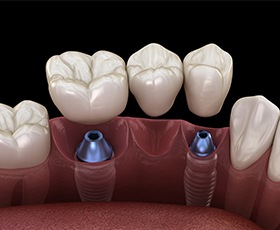 Missing Multiple Teeth
Instead of getting a traditional bridge that requires the alteration of your natural teeth, we can place two dental implants at either end of the gap in your smile. Once your customized bridge is crafted, we will attach it to the posts and close the gap in your arch, completing your grin.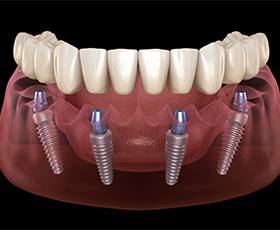 Missing All Teeth
A common complaint that some patients have with traditional dentures is that they can slip and shift in their mouths while eating and speaking. With dental implants, we'll anchor the dentures to anywhere from four to eight implants that have been placed along the arch, providing unmatched stability and security.
How Do Dental
Implants Work?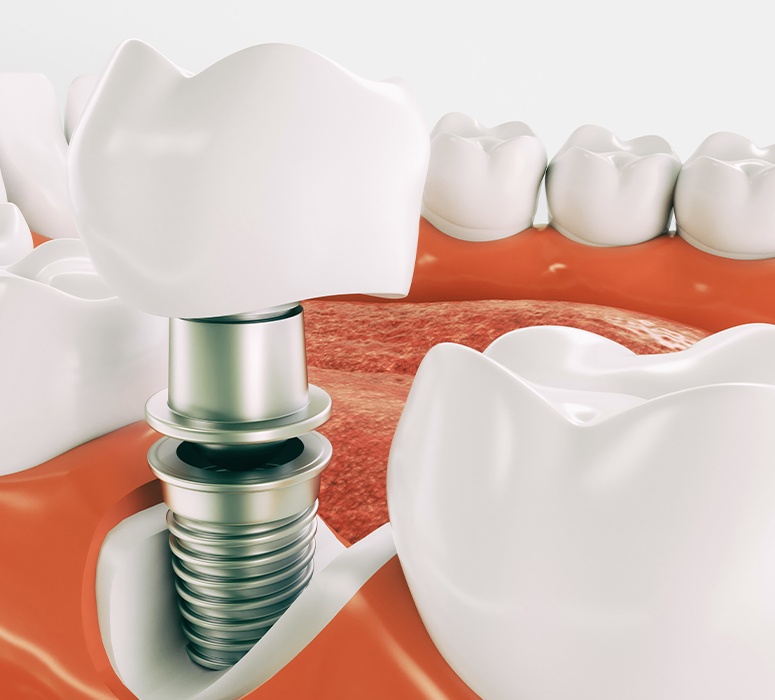 At Orange Place Family Dentistry, we partner with some of the best specialists in our area during the dental implant process to provide you with exceptional results. Once your implants have fused with your jawbone after surgery, your abutments, which are small, metal connector pieces, will be placed on top of them. These will anchor your permanent crown, bridge, or denture in place. Before you leave our dental office, we'll provide you with some basic maintenance tips so you can get the most out of your new-and-improved smile.
Understanding the Cost of Dental Implants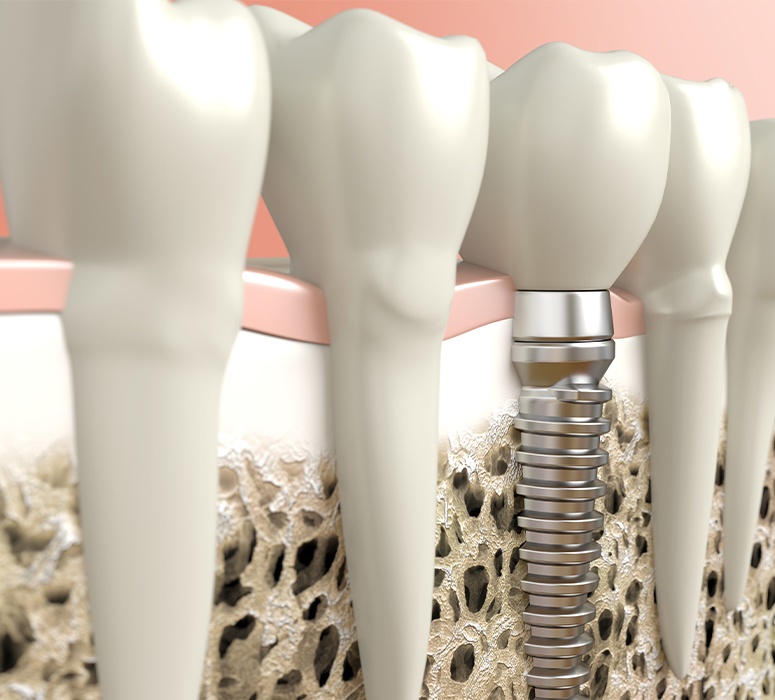 In order to determine the cost of your dental implant procedure, we'll need to examine your mouth to learn whether you require preparatory procedures, what type of restoration you need, and a variety of additional price-influencing factors. During your initial consultation, we'll provide you with an overview of your treatment timeline as well as the cost. If you have any questions about financing, our team would be happy to discuss them with you! At the end of the day, our patients are glad that they invested in dental implants that are able to last several times longer than traditional tooth replacement solutions.