Full & Partial Dentures – Beachwood, OH
Regain A Complete,
Natural-Looking Smile
Are you missing many or all of your teeth along an arch? Our team offers full and partial dentures in Beachwood to rebuild your smile and improve the function of your mouth. Gaps in your mouth can make everyday life difficult by impeding your ability to easily chew your food. They can also cause your self-confidence to decline over time. With full and partial dentures in Beachwood, OH, our goal is to provide you with a beautiful-looking and fully functional grin that you feel proud of.
Why Choose Orange Place Family Dentistry for Full & Partial Dentures?
Dentists With 4+
Decades of Experience
In-House
Dental Laboratory
In-Network
Dental Provider
What Are Dentures?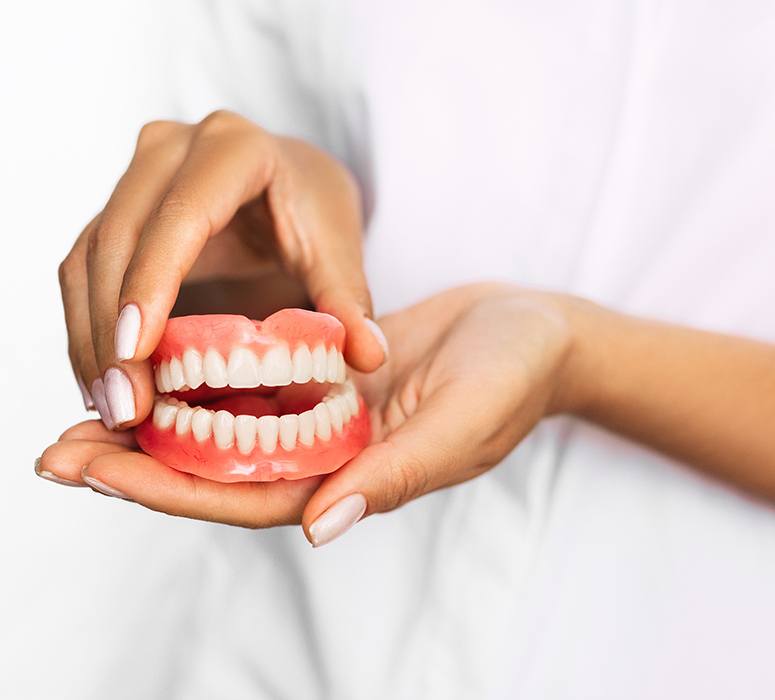 Dentures are a removable dental appliance that is utilized in order to replace missing teeth and adjacent tissue. There are four kinds of dentures that our doctors may use: complete dentures, partial dentures, implant-retained removable dentures, and hybrid dentures.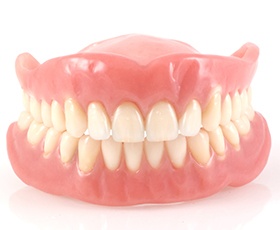 Complete Dentures
Complete dentures are considered to be either "conventional" or "immediate". Conventional dentures will be placed in your mouth approximately eight to twelve weeks after your teeth have been removed. This allows your gum tissue to heal before placing your final or "conventional" dentures. "Immediate" dentures are made before your appointment and are placed right after your teeth have been removed. This process allows you to have teeth immediately after the process has begun instead of waiting to receive your final dentures. As time goes on, an immediate denture will need to be adjusted in order to fit properly.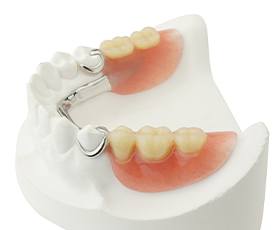 Partial Dentures
A partial denture is attached to a gum-colored base and connected to other teeth by metal framework. This base and framework help the bridge or partial denture stay in place. Partial dentures are used when one or more teeth remain on the upper or lower portion of your mouth. They also fill the space created by missing teeth and keep your remaining teeth from changing position and transforming your smile.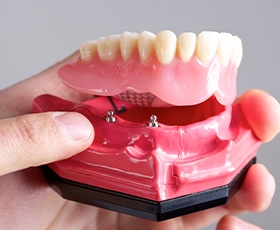 Removable Implant-Retained Dentures
Everyone's mouth is different. People who have lost a lot of bone support struggle with complete dentures. The teeth can move around and be difficult to eat with. In cases where this may happen, implants are placed and the denture snaps over the implants, holding the denture tightly in place. Most patients tell us they can eat whatever they choose once this is finished. These dentures are still removable and need to be taken out and cleaned at least nightly.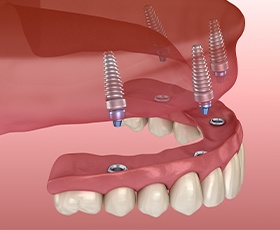 Hybrid Dentures (All-on-4 Dentures)
People who don't want to take their teeth out at night find that hybrid dentures are their best solution. A hybrid denture, also called an All-On-4 denture, is permanently fixated on 4 or 5 implants. Dr. Koops and Dr. Mollica can remove the denture but you the patient cannot. This denture is very stable and looks and feels natural once completed. As with all dentures, you can choose the shape and color of your new teeth.
Denture Candidates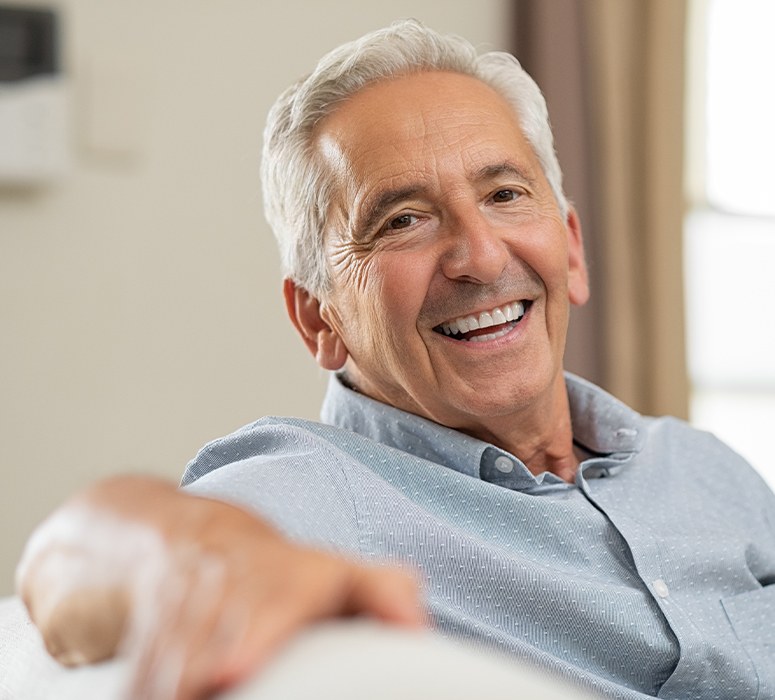 A candidate for complete dentures are people who have lost all of their teeth or have teeth that cannot otherwise be saved. A partial denture is fit for anyone who as some of their real teeth left but has lost some teeth due to cavities, trauma, or other reasons.
Dentures are used to improve the look of your smile, fill gaps, and keep your real teeth from changing position in the mouth. If you receive a denture it can improve your everyday life. A denture will improve your chewing, speech, and provide support for your facial muscles. After receiving dentures you will notice a change in your facial appearance and smile.
Denture Care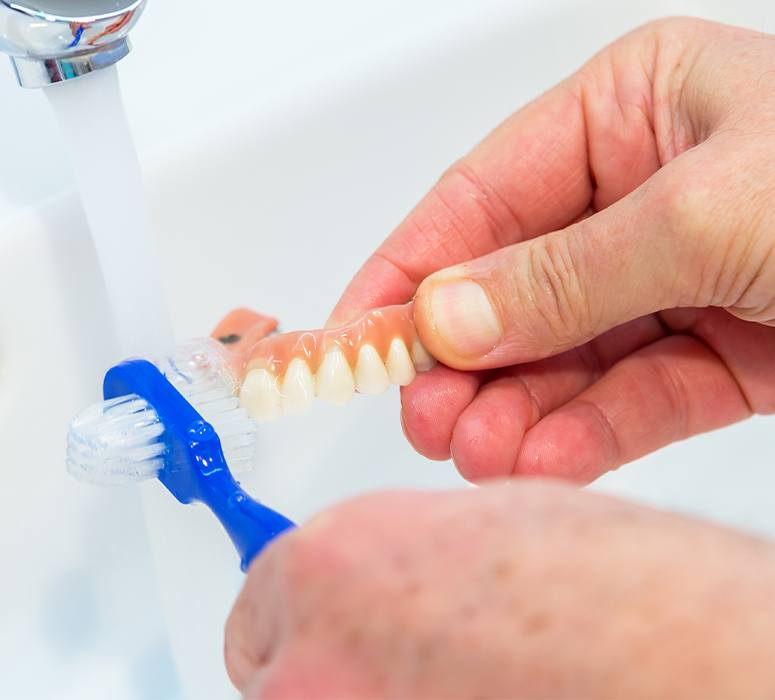 Even if you do not have any of your real teeth anymore it is still important to maintain good oral health and care. It is important to brush your gums, tongue, and palate every morning using a soft toothbrush. This should be done prior to inserting your complete denture. This oral care will stimulate oral tissue and help to remove plaque from areas in your mouth.
One thing to remember when caring for your mouth and denture is that your denture is extremely fragile. Because of this, it is important to take good care of your denture. Every day you should remove and brush it with products specifically designed to clean dentures.
One thing you should never do to clean your denture is to place it in boiling water as a means to disinfect. Boiling water will likely warp your denture and cause the need for a new one.
If you wear a partial denture instead of complete dentures, remember to remove them before you start brushing your teeth. When you are not utilizing your denture you should use a cleanser solution or lukewarm water in order to clean and store it. Keeping it in the same place when not in use is the best way to ensure you do not misplace or lose your denture.